Based in the North East of England we pride ourselves on keeping Prog alive all over the world but especially on Teesside.
2 months ago
Having already seen two shows on the Genesis Revisited Juggernaut i hadn't intended to travel to any of the extended tour gigs. However, my recent disappointment with BBC's ...
I got a message from Paul Birchall a few days ago to remind me that he would be playing a gig at Middlesbrough Town Hall Crypt with the Snake Davis band and i simply couldn't ...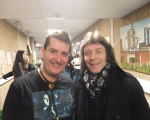 My view of last nights Genesis documentary are already known to some. However, to the world my view is that too many omissions with regards to Steve Hackett's huge body of solo ...