Based in the North East of England we pride ourselves on keeping Prog alive all over the world but especially on Teesside.
1 week ago

2 weeks ago
Perhaps in many ways the most important album for many people in the world this year  will be The Endless River, Pink Floyd's swan song and final offering under such a ubiquitous ...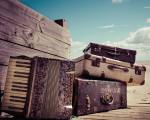 It's amazing and sometimes heart warming when you haven't seen a baby for a while only to be presented with a toddler and eventually a fully grown adult. It causes you ...
Having already seen two shows on the Genesis Revisited Juggernaut i hadn't intended to travel to any of the extended tour gigs. However, my recent disappointment with BBC's ...