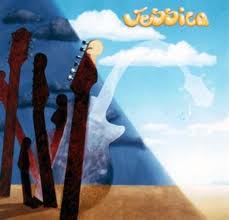 Hard to believe that when I received the promotional blurb along with a demo copy of this album that I nearly dismissed it out of hand. When I read that the album is about Jessica, Jeff Green's still born baby daughter I wrongly misjudged the album suspecting that it would be a gloomy and/or sad acoustic guitar and vocal message of grief.
Placing the disc into my CD player I turned up the volume and walked away to go about my business. As the first drones of the opening piece "For The Future" filled the room I was compelled to return to my seat and there I stayed until the whole album had finished.
Make no mistake; this is high octane prog and not at all what I was expecting.
A lot of care and attention has gone into this album. Even the intro gives the impression that you are listening to a vinyl record by the cunning inclusion surface noise at the beginning and the atmosphere and pace being set out from the very start in a captivating soundscape. It isn't long before Jeff's guitar breaks the mood and moves the piece forward to a full and varied production which for me ticked all the boxes.
Following the rather brilliant opening piece is "Vision". An all too brief acoustic guitar bringing down the scale and pace and showcasing Jeff's ability and delicate touch with purity and feel following the soaring electric guitar textures demonstrated thus far.
"On This Night" finds Jeff in fine voice singing a song that wouldn't be out of place on Pink Floyd's Animal's album. David Gilmour is sited as an influence and you can hear it in this powerful yet bitter song. Jeff Green manages to apply an edge to the music when needed without falling into the Neo-prog/heavy category. Mike Stobbie's Mini moog and keyboards in general lift this song even further into a class of it's own along with Pete Riley's wicked drums.
With little pause for breath "Willing The Clouds Away" gives the impression of being born from a jam session. Mike Stobbie's keyboards yet again make this piece very special indeed. Mellotron, Hammond and string sounds with a real Mini Moog (and yes, you can tell the difference) display a standard rarely set these days and one would be forgiven for thinking that a young Rick Wakeman had stepped into the room. Shear bliss.
Bringing the pace down a little, Jeff uses a sumptuous sounding twelve string acoustic to represent "Pride". I found this lilting, self autonomous song in Camel territory reminding me so much of their "Harbour Of Tears" album. The gentle vocal so deftly delivered lays bare the feeling of pride tinged with frustration. Phil Aldridge's piano bridge "Essence" takes the listener into a finely honed masterpiece that is "Woman With Child". This is a tour de force with both Mike Stobbie and Phil Aldridge filling out an already huge sound. All the magic of prog is here along with exemplary playing and production.
"Being" finds Jeff along with Illegal Eagle cohort Phil Aldridge further invoking the "Harbour Of Tears" mood before moving into "Jessie's Theme". As you would imagine, a great deal of care has been taken in the construction of this piece. You would be forgiven for thinking it was Larry Carlton playing guitar on this diamond of a track. Glen Sissons bass is solid all the way through it and turns even more so towards the end were there are some deep and sinister sounds going on courtesy of Jeff's guitar synth and some great Mellotron sounds.
The use of guitar synth is carried into the next piece "Tomorrow Never Came". Yet another powerful and mind blowing representation of anger and loss. The message certainly gets across with this incising and instantly memorable song. The passion in Jeff Green's guitar playing here in its many forms and textures is tantamount to wearing his heart on his sleeve. He fully conveys his inner turmoil with the tools of his trade.
Beginning with the delicate beauty of acoustic guitar and flute patch "Prittlewell Chase" lures you into a false sense of security before the Paul Hardcastle button is pushed and Jeff returns swiftly to do what he does best which is making the hairs on your neck stand to attention. Nice to hear a clavinet sound too.
Arriving at the concluding "Live Forever" which is not only a personal message and channeling of emotions, I was compelled to believe that the whole album was not only a personal journey for Jeff Green but a lesson to many in what makes a prog album truly great? By recording Jessica with some of the best musicians in the business Jeff has demonstrated that he is not only capable of venting his demons and coming to terms with the tragic loss of his daughter Jessica through his musical talent and skill, he has also taken on the mantle of master craftsman. In my opinion Jessica is without doubt the best prog album I have had the pleasure of reviewing for a long time and sets a new gold standard.
In conclusion, Jessica is beautifully packaged with elaborate sleeve notes explaining the full story of Jessica as well as a superbly presented six page booklet which makes the CD a little more attractive than the download option. All proceeds from the sale of this album will be donated to the bereavement room at Southend General Hospital. If you only buy one album this year then make this prog master class the one.
For more information or to buy a copy of the album go to….
 

http://web.mac.com/jeffrgreen/Jeff_Green/Jessica.html