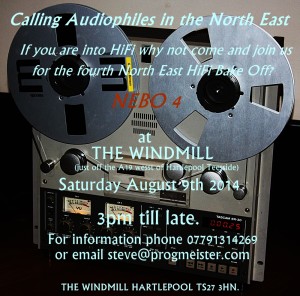 Listening to music via expensive audio equipment ir as it were "of it's time". To a point i will agree with this and i can't help thinking that many people are missing out by trading convenience for quality. This itself is a debate on it's own and not one i want to go into here. NEBO 4 (North East Bake Off) was the fourth such meetings for audiophiles in the North East that i have organised and by far the most special. Holding such events not only celebrates the art of listening to music in the best way possible with the exception of a live event, it brings together gifted engineers, enthusiasts, innovators and most importantly those passionate about music and hearing it reproduced at it's best.
Getting to the Windmill at Hartlepool early on Saturday afternoon to get things set up before the first people arrived wasn't easy. I was pipped to the post by Ken Quin who seemed eager to get his amazing turntable set up. Based on a Technics 1210 Ken's complete reworking of the design utilising it's finer points were a joy throughout the day. Connected to his totally rebuilt Celestion 66 speakers via Mik Rik's 10 watts per channel Verdik Q10 monoblock amps was a revelation. based around a Mullard 5/10 circuit and built sometime between 1958-59 they were  not phased in the slightest by the oversised Celestions. Mik brought along his TVC pre amp which saw action all throughout the day. This incorporated the excellent Firebottle valve phono stage which is fast gaining cult status. The Firebottle equited itself beautifully and was used throughout the day in many configurations. Thanks to Alan for sending it along for us to hear. I think it won a few friends.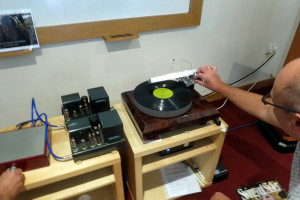 Having two rooms is a great convenience as visitors bringing equipment could be setting up in one room whilst the audience were enjoying music in the other. Indeed there was a lack of speakers at one point and i had to dash home and dig out my little Mission 752's in the name of continuity. leap frogging into room two Rich Britton connected his laptop to my Mission's via his Mini-T amp. I have to admit that this tiny device turned a few heads one of them being mine. Used primarily in Rich's desk top system it did not disgrace itself in the slightest though it's limitations were taken into consideration. Rich played some interesting music the majority of it new to me and a few others. As people started to trickle in (some from far and wide) i started to worry if we were going to run out of day and a great deal of Marshalling had to be done throughout the day. I found myself having to apologise to two gentleman who traveled from Tyneside with a CD player for us all to listen to.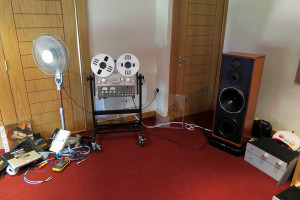 Meanwhile in room one Alan Towell was setting up his Tascam B20 reel to reel via his home made B4 pre-amp and Hackernap design power amp. Alan also brought along an old Pioneer PL590 dd turntable onto which he had mounted an SME 3009 tonearm and Ortofon Kontrapunkt b cartridge. This was played through his two box Paradise phono stage which i think may have been responsible for a few jaws dropping, mine being one of them. Just prior to this we were all treated to listening to some Keb Mo via Alan's R2R which was as ever stunning. It's always a joy having Alan along to the Nebo meetings as he is a joy to listen to and a font of knowledge. He totally changed my view of the aged SME 3009's for many reasons and i think i will be sourcing one for my Lenco.
The arrival of les Wolstenholme with some rather lovely amps for us to play with brought a smile to a few faces and by this time Wilbur had brought his Spendor BC2's which we had to place atop of the Ikea Corra tables due to not having appropriate stands. Les also brought along his Avondale modified Arcam Alpha 5 CD player which played some pretty fine tunes throughout the say. Les give a brief description of the equipment before playing music and holding a 45 minute Q&A session and treated the audience to some great anecdotes and tales of the industry. The amps that Les brought along were his Grad 1 pre-amp and power supply along with two mono block power amps based on Naim NAP135's. Not surprisingly they sounded like Naim. Les did explain that there voicing wasn't his own preference but it was what some customers like.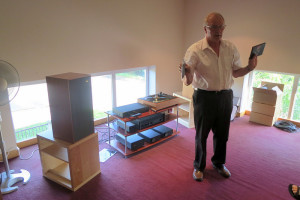 A new found friend from Lenco Heaven, Jay called by with his Leak stereo 20 which also played some very nice tunes albeit with limited gain as we couldn't get it to work satisfactorily with the gears that we had on site. It was rather nice though and i hope Jay may be persuaded to come back next time with it. Back in room two we had yet another move around due to the arrival of Marco, head honch at ART OF SOUND forum. He and his fellow forumite had traveled a fair old distance and by all accounts had the journey from hell to get to Hartlepool and brought with them Marco's untouched Celestion 66 speakers for comparison. This was done with the help of a very nice rebuilt Technics 1210 swathed in a beautiful hard wood plinth and separate power supply via an Audio Innovation pre amp with most of the pre amp componants removed to make it a stand alone phono stage. This made for a very up front sound which i think may not have been to everyones liking. However, this was down to time constraints and being unable to re-jig things to get the system properly tuned. My deepest apologies for that.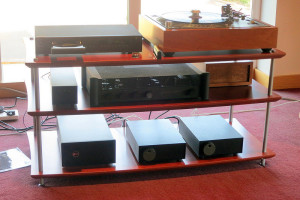 Concluding what was a very full day we decided to tale Mik Rik up on his offer of connecting Rich Britton's laptop to his Radford power amp through Ken's Ditton 66's. It didn't sound bad at all, quite a surprise in fact. We listened to many WAV files all of which sounded very good indeed especially the Frank Zappa tracks. We concluded the day with my favourite track from last years Progmeister album of the year English Electric part 2 by Big Big Train. A song called Swan Hunter. This brought to an end a fabulous day and one that will stick in my memory for a few years to come. Many thanks to everyone who came and brought with them some great hifi to listen to and for those whom i only got a brief chance to chat that merely wanted to enjoy the event. I hope you come again. Thanks to to those who gave so generously towards the expense of the venue. Suggestions for another Nebo meeting will be gratefully appreciated as long as they are positive and achievable. I can be emailed at steve@progmeister.com